This is a Sponsored post written by me on behalf of
ConnectMyDNA.com
for
SocialSpark
. All opinions are 100% mine.
Here's an interesting service. It's called ConnectMyDNA™. They analyze your DNA, not to look at your ancestry or your past, but to find connections
today
. They combine your numeric DNA test results into graphical data and apply it to a circular pattern of 13 rings - called the Gene Ring™. It's like your own personal fingerprint where the green markers and their position around each ring represent the unique values found in your DNA. You get an eye-catching symbolization of your unique genetic makeup, which is also a scientifically accurate tool that allows you to visually compare your DNA profile to friends, families and population groups around the world - to find connections with other people you probably had no idea you were connected with!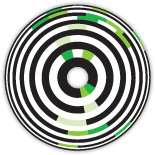 I don't really know my ancestry or genealogy - mainly because it just doesn't seem all that relevant to me, so I've never paid that much attention. But this in
not
an ancestry test, but a way of finding similarities to today's populations and people around the world. Finding out who I'm connected with
now
could be fun. Maybe I've got a lot in common with people who live somewhere tropical near a beach! I really have no idea, but it would be interesting to find out, wouldn't it? ConnectMyDNA™ compares your personal genetic markers to a massive world-wide database of DNA profiles to determine which population group you most closely resemble. In some cases, it might be what you expect, but it could also be very surprising.
The process is fairly simple:
Collect your DNA sample using the DNA Collection Kit they send you - a simple swab of the cheeks - and mail it back in the postage-paid envelope.
Their secure lab extracts the DNA from the swab and converts it into scientific data. They use one of the world's leading DNA testing facilities, providing the highest level of quality and accuracy of results.
Get your results online by logging into the Members area. You'll get access to online tools that allow you to share and compare your results with friends, family, and people around the world.
Serial numbers are used to track your order, not your name, and there is no sensitive information provided by the ring - so it's up to you use and share your results as you wish.
If you're interested in finding out what your DNA says about you and the people you're connected with in this world, be sure to check out
ConnectMyDNA™
. They're offering a really great deal right now. Use coupon code
IZEA290512
to get the reduced price of $29.00 - regularly $89.95, so that's a
huge
savings. Who knows - maybe we'll find out
we're
connected!