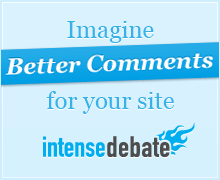 I've installed
Intense Debate
on this blog and my recipe blog. Now, every time you guys comment, your comments will automatically be better! OK, it doesn't work
exactly
that way, but I do think it will make comments overall more relevant.
While I am mostly satisfied with Blogger, the comments have left a bit to be desired. Not that people can't comment with the Blogger system, and there are options that allow anyone to comment - provided the blogger sets it up that way. The problem is that there has never been a way to actually have a conversation through these comments. Commenters can subscribe to comments, but then they end up getting every single comment on that post, whether it's relevant or not. Either that, or they have to remember to check back later to see if there are any relevant comments. And all the comments run in a linear fashion, making it hard to actually see which ones are relevant to which other ones. Well, you get the idea.
So, when I saw Intense Debate being used on another (Blogger) blog, I had to check it out. It was really easy to install. They give you two options - widget or template. I chose the template because they say it provides better integration with the blog. They also said it was a bit more complicated to install than the widget, but they walk you through the whole process so it's not complicated at all. Don't let that worry you.
Once installed, there is some customization you can do, but it seems to work pretty well with my theme without any need to customize anything. It's nice to know there are options, though. Now, with Intense Debate, I have all these great
features
for the comments on my blogs - email notification, comment threading - you can reply and carry on an actual conversation, the ability to reply
by email
, comment moderation, and more. Commenters can subscribe to the replies to their own comments, so they'll know when someone says something relevant - or at least when someone says something that's
supposed
to be relevant.
I really think it can add a lot to the comments, so everybody start commenting so we can try it out! Talk to me.